Treatment provided
Orthodontics.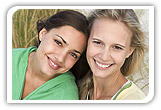 Lingual Orthodontics.
Is This Girl Wearing Braces ??Yes !! Behind The Teeth - Where They Don't Show!
The majority of patients exploring orthodontic therapy realize that a "Great Smile" will improve their facial symmetry and overall appearance. They desire the benefit of straight teeth but sometimes are hesitant to commit to braces that will show. For these aesthetically conscious children and adults, concealed Lingual orthodontics provides an excellent alternative to traditional braces. Patients can enjoy the process of orthodontia while still retaining a natural smile. Another popular option among patients desiring cosmetic orthodontics is clear braces.
Cosmetic dentistry
Veneer A veneer is a new front surface for a tooth, custom made from porcelain. Veneers are extremely versatile and can be used to align crowded or protruding teeth, close gaps or lighten tooth colour. Their strength and appearance rivals that of natural teeth and they are used to make long lasting changes to the smile.
Porcelain Crowns & Dental Bridges
Crowns are used to restore severely broken down teeth. Crowns are made of porcelain, like veneers and are every bit natural, not only in appearance but also in strength There are a number of tooth coloured amalgam-free filling materials available. The most suitable options for your teeth are discussed and recommended during your first appointment.
Teeth Whitening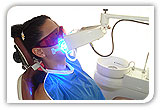 Time, smoking, tea and coffee are just a few of the things that cause your teeth to yellow and discolour. Whitening is a bit like a facial in that it helps to unlock pores in your tooth so that stains are gently removed leaving teeth cleaner and righter. Whiter teeth can take years off your appearance and he effects can last up to ten years depending on whether or not you smoke or how much tea, coffee or red wine you drink. Although teeth themselves whiten well, any fillings or crowns will remain the same colour and may need replacing to match the new lighter colour of your teeth. All whitening products are based on a hydrogen peroxide solution: the only difference in the hundreds of systems out there is the concentration of the solution and the way it is applied to your teeth.
There are two main ways of carrying out tooth whitening:
Tray based. The gel is placed in a custom made thin transparent guard which is worn for up to one-hour for 7-10 sessions. Your upper and lower teeth can be treated together or on separate nights.
In office power bleaching. It involves placing the gel on your teeth and activating it with an LED light. A one-hour appointment is needed with the results guaranteed.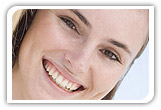 There is no evidence that whitening toothpastes can actually whiten your teeth. Some of those bought abroad, can actually harm your teeth as they contain acids/abrasives that can cause permanent damage. However, seek advice from your dentist about the safer toothpastes, which can help stains from forming. We advise their use after you have had your teeth whitened.
Smile Makeover
The smile avenue has a wealth of experience with extreme dental makeovers and has been featured on the TV channel Rose bowl. In these cases, even severely crowded, broken down dentitions and smiles with multiple and even severe problems are restored to healthy and attractive smiles in the time possible.
Dental Implants
Implants are the modern way to replace missing teeth. The implant, which is made of titanium, is fitted in bone where the tooth root would normally be. When fully integrated to the bone, a post (or abutment) is attached to the implant and crown or bridge can be placed over the abutment to replace the missing tooth or teeth.
Gum Reshaping
For those clients with low or uneven gum levels, a laser gum reshaping treatment can be performed to correct this. If a client has a gummy smile a painless gum lift can be offered
White Fillings / Inlays
There are a number of tooth coloured amalgam-free filling materials available. The most suitable options for your teeth are discussed and recommended during your first appointment.
Cosmetic Dentures
Many people think that dentures have been left behind in the cosmetic dental revolution, it's not so! In fact, using the latest technology and techniques, cosmetic dentures can create the smile makeover. Forget 10 years younger, the latest in cosmetic dentures can not only restore your smile but take 20 years off your whole face!
Teeth Bonding
Bonding is a process in which an enamel-like material is applied to a tooth's surface. It can be used to restore minor chips and close small gaps, often completed in one appointment.