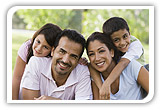 Patient comfort being the prime priority, our clinic is equipped with all most modern techniques and facilities of international standards. Entire staff, headed by Dr. Madhav Manoj & his wife Dr. Manju Manoj is a perfect blend of academicians and clinicians with over a decade's experience. Our patients are given the best care in all fields of dentistry by doctors who had undergone postgraduate training in the particular speciality.
This unique personalized multidisciplinary treatment approach is done under utmost sterile environment. Adhering to international standards of sterilisation, both hot and cold sterilisation techniques are used for a complete aseptic environment. Eco-friendly disposables are used wherever possible.
Time is as precious to you as it is for us. Our clinic not only gives you the privilege of prior appointments for consultations and treatments but also sees that the procedures are completed within the given time frame. The warm, courteous, prompt and polite behaviour of our entire staff will make your dental visit with us a pleasant and memorable one from the moment you make an appointment. Our clientele includes patients not only from the sub continent but spreads to USA, Europe and the Middle East.